Are you a solopreneur trying your hand at social media marketing or learning how to market on social channels for your clients? There are some simple steps to creating the perfect Facebook post. Cover them all, and you'll see better engagement for your Facebook posts.
1) Target Right
First, sit down and define your audience as detailed as you can. Your Facebook post should reach the people who are most likely to connect with your brand, interact with the post, and take action. For this, you need to put yourself into your potential audiences' shoes, see what designs they would like, what content they would relate to, and which of their problems you can solve.
2) CTA
If you want your audience to take action on your Facebook post, you need to spell it out clearly. For instance, if your post's purpose is to increase your brand awareness, you would mostly be posting informative content. In this case, a CTA like "Learn More" would help build your audience's curiosity and lead them to clicking through. If you are selling, then be up-front & create a sense of urgency, like "Buy Now" or "Avail Offer," to help them make a decision.
Learn more about effective CTAs here.
3) USP
A little further up, we told you that you need to figure out what problem you are solving for your customers. When you've found that value proposition, ensure you give it pride of place in your Facebook post. Over 80% of click-throughs come from customers who love the fact that your product could solve a problem for them. A good tip here would be to keep it brief, but concise.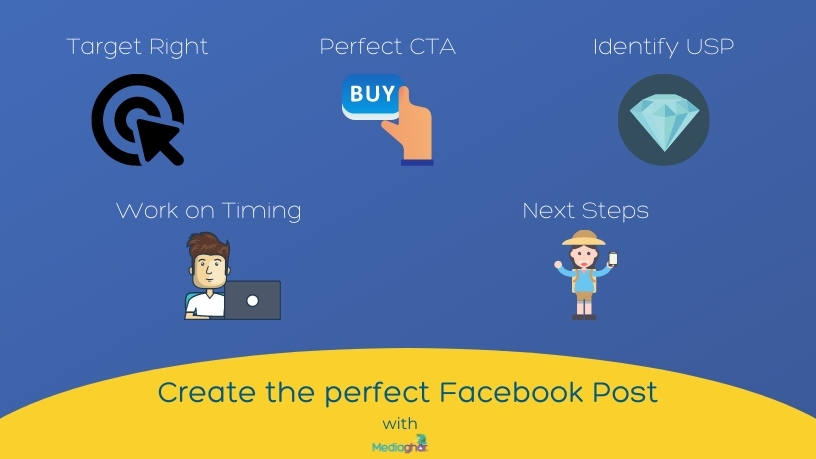 4) Timing
Facebook has insights, which is a great place to study your audience. You can see what days of the week the majority of your audience is online and what time works best to catch their attention. Use this information well when you create your Facebook post.
5) Next Steps
When you create the perfect Facebook post, and have customers clicking through, where do you want them to land? Ensure that your landing page has all the information they want. It should be clear what you want them to do and make them comfortable enough to make a purchase, reach out to you for more information, or at least share your content because it's that irresistible.
Try these steps to creating the perfect Facebook post, and let us know how it goes. If this post has helped you, keep an eye out for our hacks to creating the best posts on Twitter, Insta, LinkedIn, YouTube, and other social channels. Give us a shout-out on any of our handles below and tell us what you think.